Building sustainable habits of optimisation
Jinfo Blog
Wednesday, 13th February 2019
Abstract
There's a basic formula for improving optimisation services for teams, and Jinfo helps teams apply those principles. We break down big ideas into manageable bits, while remaining flexible and adaptable and holding you (gently) accountable for progress. Learn more about Jinfo for team optimisation and how we can help your team build sustainable habits and achieve its goals.
Item
The basic formula for getting healthier is not complex: eat less. Exercise more.
Research shows that despite the fact that we KNOW what we need to do, people who have a supportive peer group make more progress towards their goals. This is much like our experience with Jinfo for team optimisation services.
The same applies to the basic formulas for improving information services. We're smart people, and the answers are not mysterious. We know that, like health, the Jinfo customers who attend webinars and Community sessions, use the tools and resources in their Jinfo Subscription or work one-on-one with us through Jinfo Consulting make more progress, faster. Here's why:
We break big ideas into manageable bits
Our approach is flexible and adaptable, so you can incorporate the elements that work best for your environment
When a Jinfo call is in the diary it's akin to a commitment to your personal trainer - you know you'll be held (gently) accountable.
The Jinfo Community sessions and webinars that keep you (or place you) on track include:
Need an introduction to team optimisation with Jinfo? Register for our 8th April "Jinfo for optimising a team of researchers", a confidential discussion with info pros like you.
Other tips and resources to boost your optimisation efforts include:
Consider the potential for freeing up time if you had a chatbot to handle basic queries.
This is just a sample of what Jinfo offers to support your team optimisation efforts. While the principles of optimisation are not difficult to learn, they do require practice, a bit of coaching and a lot of support to embed as sustainable habits.
Your Jinfo Subscription is your guide. And consider bringing in our consulting workshop, "Do better with less - workflow optimisation", for a truly tailored plan.
About this article
Blog post title: Building sustainable habits of optimisation

Related Blog items:
What's new at Jinfo?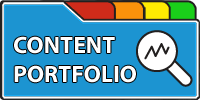 Latest in this Focus: Scorecards. Use Jinfo's step-by-step methodology to craft scorecards to strengthen negotiations, communicate with stakeholders, compare value of products and manage your portfolio more strategically.
---
What's your priority?
Use our self-assessment worksheet to determine your pathway towards more strategic portfolio management: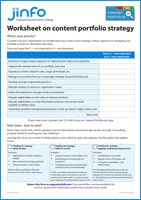 ---
A Jinfo Subscription gets you access to activity-based content to move your projects forward, plus dynamic peer group discussions on meaty topics.
Benefit from our research
Our proven processes, resources and guidance will help your team make the shift from transaction centre to strategic asset.
---
Designed around the most common challenges and pain points for time- and resource-strapped information teams
Optimise your operations
Holistic content portfolio management
Future-proof your information service
Executive-ready communications
---
A tailored overview of our research and active discussion with your Jinfo analyst.
---
Measure your starting point to articulate your strengths and set priorities for future improvements. Assessments gauge risk, capacity, value and more.
---
Read case studies, and start the conversation:
Connect your team with the practical tools, original research and expertise to build and support information strategy in your organisation.
A Jinfo Subscription gives access to all Content (articles, reports, webinars) and Community.