2021 budgets, the future of information, and you
Jinfo Blog
Wednesday, 11th November 2020
Abstract
Budget planning for 2021 will already be a challenging enough process without navigating the impact of the pandemic on your organisation. Jinfo Consulting enables you to meet the demands of preparing a budget by using our expertise to help you link value to your organisation's strategy. Take the opportunity to effectively align your goals and build strategic foresight for success.
Item
As 2020 draws to a close, you may be considering, like many of our clients, how to budget for success and achieve the best result for 2021.
The COVID-19 crisis has affected sectors in different ways and will continue to disrupt – but here's what we do know:
In-person options for events, training and team-building are likely to be limited, especially in the first half of 2021

The "new normal" for business looks very different to what it did a year ago… which means different needs for and pressures on information services, expertise, and budgets in your organisation

Your organisation needs – more than ever – access to information products, services and expertise, aligned with its goals and objectives.
A resilient budgeting process links into your organisation's overall business strategy. How well poised are you to face this future, strategically and effectively?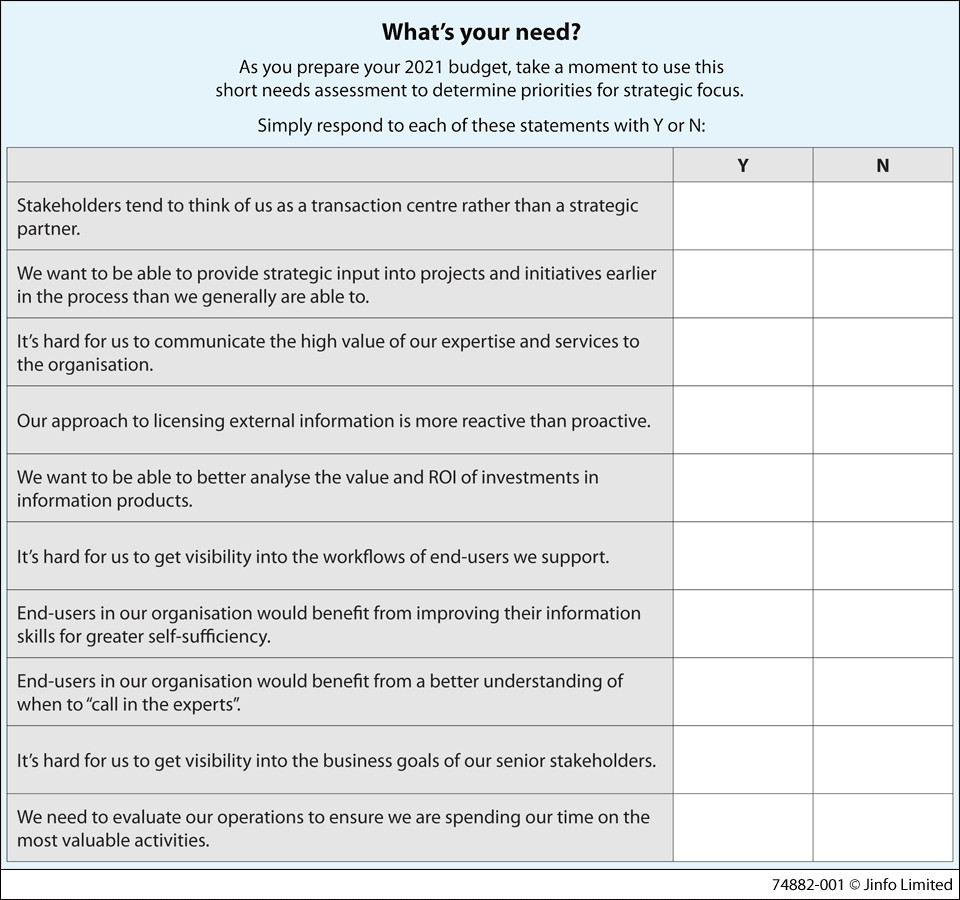 Click the figure to view a larger version.
Download a PDF version of this worksheet here.
Jinfo can help
For every statement you answered with Y, Jinfo can help you with Content, Community, and Consulting designed to:
Connect information products, services and expertise with value to the business

Develop and implement holistic content portfolio management

Create and deliver expert services and end-user empowerment as an Information Centre of Excellence.
Want to work on your own? A Jinfo Subscription gives you access to all our Content and Community sessions to support your information service team's goals and objectives.
Prefer to have structure, perspective and accountability to ensure you hit your goals for the year? Consider Jinfo Consulting, where we work alongside you to solve challenges and strengthen your information service team as a valuable asset within your organisation.
Get started
Share your responses to these statements and questions with us to contribute to your financial planning.
Talk with us about your 2021 budgeting process and what looks different for you – operationally, financially, strategically – in the unique future we're all facing. By investing now, you can build a resilient budget to navigate the coming months - contact us today.
About this article
Blog post title: 2021 budgets, the future of information, and you
What's new at Jinfo?
Jinfo Overview - July 2021
View on YouTube
---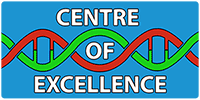 Latest in this Focus: Get started adapting the model to your environment with step-by-step guidance on practical activities for strategic planning. Define your own future where information is a strategic asset to your organisation.
---
What clients say about Centre of Excellence:
"My colleagues and I used your Known Fors activity, and we now have a vision as to who we are going to be. We already achieved ROI... a sincere thanks!" Director of Research and Information Services, international law firm
---
A Jinfo Subscription gets you access to activity-based content to move your projects forward, plus dynamic peer group discussions on meaty topics.
Benefit from our research
Our proven processes, resources and guidance will help your team make the shift from transaction centre to strategic asset.
---
Designed around the most common challenges and pain points for time- and resource-strapped information teams
Optimise your operations
Holistic content portfolio management
Future-proof your information service
Executive-ready communications
---
A tailored overview of our research and active discussion with your Jinfo analyst.
---
Measure your starting point to articulate your strengths and set priorities for future improvements. Assessments gauge risk, capacity, value and more.
---
Read case studies, and start the conversation:
Connect your team with the practical tools, original research and expertise to build and support information strategy in your organisation.
A Jinfo Subscription gives access to all Content (articles, reports, webinars) and Community.