Jinfo research on UK legal purchasing preferences and needs 2019
Jinfo Report
7th November 2019
Abstract
Jinfo's research into purchasing trends and preferences in the UK legal market is now in its ninth year and for this year's survey we aimed for a more refined approach to create closer alignment between our questions relating to what teams value and the satisfaction ratings given to specific products. This helps us focus our product-specific analysis and better see how satisfied respondents are with various product features as well as things that matter most to them and their stakeholders when making purchasing decisions.
This report:
Introduces the findings
Reports on the four main products used: LexisLibrary, LexisPSL, Westlaw UK and Practical Law
Looks at how legal information professionals perceive and value these core products
What constitutes "value" for law firms, and how information teams manage it
Looks at overall budget for content purchasing and licensing
Rates content, technology and user experiences in terms of value
Includes commentary on how purchasers' satisfaction could be improved
Looks at how core products are rated in terms of content, such as accuracy and breadth of content
Looks at how core products are rated in terms of technology, such as navigation and productivity tools
Focuses on the emerging needs, preferences and pressures facing law libraries as they manage products and services
Looks at how core products are rated in terms of value, such as time-savings and reducing risk
Gives specific free-form comments from respondents in terms of products and features
Looks at comparisons over time.
Content Access
Access to Jinfo articles and reports is a benefit of a Jinfo Subscription.
Does your organisation have a Jinfo Subscription?
"Yes, we subscribe"
Please sign in here so that we can check your access to this item:
"Not yet"
Gain access to this report with a Jinfo Subscription. It will help your organisation:
Save time and money
Re-invent information services
Define, measure and communicate information value
---
"Don't know"
Submit the Subscription Question form to find out if someone in your organisation already has a subscription or to discuss your questions or requirements.

Or use the 'Text Chat' button at the bottom-right of this page for immediate assistance.

Claire Laybats
Head of Commercial Development
claire.laybats@jinfo.com
About this report

Related articles:

Related reports:
What's new at Jinfo?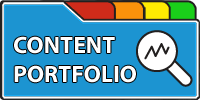 Latest in this Focus: Scorecards. Use Jinfo's step-by-step methodology to craft scorecards to strengthen negotiations, communicate with stakeholders, compare value of products and manage your portfolio more strategically.
---
What's your priority?
Use our self-assessment worksheet to determine your pathway towards more strategic portfolio management: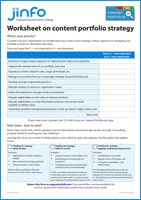 ---
A Jinfo Subscription gets you access to activity-based content to move your projects forward, plus dynamic peer group discussions on meaty topics.