Comparative product evaluation - breaking it down into manageable pieces
Jinfo Webinar
19th January 2021
[Focus: Content Portfolio]
Description
In this webinar, Steve Bynghall presented a clear overview of how to design comprehensive product evaluations. This framework was developed following interviews with Benoit Sollie at Cargill, demonstrating best practice for comparing products against end-user needs.
To get the most value from this recording, review the Jinfo Report, "Evaluating information products", and in particular these items:
Webinar Recording and/or Slide Deck
This event has passed, and a recording and/or slide deck is available for Jinfo clients.
If you are a client, please sign in here so that we can check your account:
About this Webinar
Webinar title: Comparative product evaluation - breaking it down into manageable pieces
What's new at Jinfo?
Building competitive advantage
9th February 2023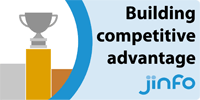 Community dates
---
[New] The Jinfo Subscription is back by popular demand!
---
"Happy anniversary Jinfo, née FreePint"
4th January 2023
25 years, 600 editions, 500 contributors. Jinfo has come a long way, and so has the value of information work. However, information leaders still need to win the war for talent, hold vendors to account, and keep an eye on competitors.
Read on the Blog