Capacity comes from strategy
Jinfo Blog
Wednesday, 15th September 2021
Abstract
Evolving as an Information Centre of Excellence requires new thinking and strategy, not just more people to do the work. Jinfo's clear step-by-step visioning and planning process helps you describe the future and identify the qualities, characteristics and skills required to get there.
Item
We've noticed a trend in queries from Jinfo clients about their efforts to recruit new staff. Where questions once were primarily of the "Who do you know?" sort, lately we've been fielding more questions about "What should we be hiring for?".
A case in point is a long-term client who has (finally) secured provisional executive support to add headcount. The current team of two supports a customer base burgeoning through acquisitions.
They know that simply adding more hours to their department capacity is not the solution. Instead, they need to take this opportunity to think strategically about what the future of their service should look like, and then identify the qualities, characteristics and skills required.
Visit the Focus on Centre of Excellence for an overview of the process they will be using. Detailed guidance on each step is provided in an article and supporting recorded webinar.
This particular client will focus on these:
Step one - map your services to the model will enable them to imagine what maximum value looks like for their organisation


Step two - create your Pillars of Service will give them a framework for rethinking their services from their customers' perspective


Step four - assess your team's characteristics will help them observe their strengths and weaknesses and consider how to grow the team strategically.
Many teams are already running these activities very effectively on their own.
But we're always here to help – and with our independent view and industry-wide experience, our analysts often highlight things that are hard to spot from the inside.
Consider Consulting on Centre of Excellence to strengthen and streamline your strategic planning.
This item was featured in the most recent Jinfo Newsletter. The Jinfo Newsletter brings you updates on Jinfo's research, latest resources and tips. If you're not yet receiving it, register here (free).
About this article
Blog post title: Capacity comes from strategy
What's new at Jinfo?
Jinfo Overview - August 2021
View on YouTube
---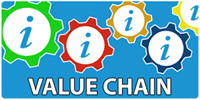 Five newly recorded webinars on how to complete the activities in our Focus on Value Chain now available.
---
Express value the way stakeholders do with Value Chain analysis
"I can now sit in a meeting with my stakeholders and articulate the role information plays in their workflows. They understand our contribution to their success." Information Senior Scientist, heavy manufacturing industry
---
With Jinfo Consulting, you get accountability, fine-tuned guidance and industry-wide perspective.
Benefit from our research
Our proven processes, resources and guidance will help your team make the shift from transaction centre to strategic asset.
---
Designed around the most common challenges and pain points for time- and resource-strapped information teams
Optimise your operations
Holistic content portfolio management
Future-proof your information service
Executive-ready communications
---
A tailored overview of our research and active discussion with your Jinfo analyst.
---
Measure your starting point to articulate your strengths and set priorities for future improvements. Assessments gauge risk, capacity, value and more.
---
Read case studies, and start the conversation:
Connect your team with the practical tools, original research and expertise to build and support information strategy in your organisation.
Jinfo Content and Community gives access to all Content (articles, reports, webinars) and Community.