Newsletter No. 574
« Previous Newsletter
---
Newsletter 574

9th September



Theory, practice, and demonstrating ROI

As Director of Research, I have the privilege of a bird's-eye view gained through working with all types of information teams across a range of industries.
Our Focus on Value Chain is one result of that privilege – a breakthrough approach for tying information products, services and expertise to quantifiable business outcomes.
From my position "in the lab," I can think laterally about solutions without worrying about real-world variables like personalities, corporate politics, or budget constraints.
But it only matters if it works in the real world, not just in the lab.
In August, we took our development a step further, by running internal workshops on the process of Value Chain analysis, customer experiences and results, for Jinfo's senior analysts:
Stephen Phillips, with 35 years' experience, including most recently as the Head of Business Information Management at a global investment bank


Susan Gleckner, with 30 years' experience, including most recently as Associate Director responsible for information research strategy and operations for R&D in the consumer division of a global pharmaceutical company.
Whilst I was working out models and theories in the lab, they were actually on the ground, doing the job. Now as a team, our knowledge – both theoretical and practical – represents an incredible resource for Jinfo clients seeking to crack the code of ROI.
It's exciting to share the Focus on Value Chain and the analysis it enables our clients to do with these talented colleagues. The resulting discussions sharpen all of our thinking and make us even more equipped to adapt our methods for your needs.
We'd love to include you in the discussion. Consulting on Value Chain can be tailored to your goals, timeline and budget – contact us today.
Robin Neidorf
Director of Research




Tie portfolio value to commercial impact

Effective value-based portfolio management requires you to have in-depth knowledge of your internal clients' processes.
Two examples from recent Consulting on Content Portfolio workshops with Jinfo clients highlight the practical application of this knowledge:
Manufacturing: Analysis of what contributes to "efficient innovation" enables the information team to link specific information products with shorter development cycles and faster, more creative identification of "white space"


Pharmaceuticals: Deconstruction of how the information team shortened the process of narrowing 500 research targets to 100 made visible (and measurable) the commercial contributions of both expertise and products.
Both clients now can approach their vendor negotiations from a value-based perspective, supported by their own metrics.
As an added benefit, they have made positive shifts in their relationships with internal stakeholders. By speaking the language of their clients and learning their world from the inside out, these teams reinforce their bona fides as trusted advisers essential to digitised R&D.
You can hear more directly from peers having these breakthroughs and successes by joining our upcoming Community sessions in the Focus on Content Portfolio:
Talk with us about Consulting on Content Portfolio to explore what your own transformation can look like.
Stephen Phillips
Senior Analyst




Capacity comes from strategy

We've noticed a trend in queries from Jinfo clients about their efforts to recruit new staff. Where questions once were primarily of the "Who do you know?" sort, lately we've been fielding more questions about "What should we be hiring for?".
A case in point is a long-term client who has (finally) secured provisional executive support to add headcount. The current team of two supports a customer base burgeoning through acquisitions.
They know that simply adding more hours to their department capacity is not the solution. Instead, they need to take this opportunity to think strategically about what the future of their service should look like, and then identify the qualities, characteristics and skills required.
Visit the Focus on Centre of Excellence for an overview of the process they will be using. Detailed guidance on each step is provided in an article and supporting recorded webinar.
This particular client will focus on these:
Step one - map your services to the model will enable them to imagine what maximum value looks like for their organisation


Step two - create your Pillars of Service will give them a framework for rethinking their services from their customers' perspective


Step four - assess your team's characteristics will help them observe their strengths and weaknesses and consider how to grow the team strategically.
Many teams are already running these activities very effectively on their own.
But we're always here to help – and with our independent view and industry-wide experience, our analysts often highlight things that are hard to spot from the inside.
Consider Consulting on Centre of Excellence to strengthen and streamline your strategic planning.
Rebecca Brizi
Senior Analyst


"One of the benefits of Jinfo's Value Chain consulting work was getting to know ourselves better. Now, we're able to use it as a foundation to reach out to and better understand our users' needs – to walk in their shoes. Our reporting line doesn't have the expertise in our kind of work, so having Jinfo's framework to set expectations for them was really powerful."
Lead, External Information and Knowledge Management, agribusiness.
More testimonials
About Jinfo
Please forward this email to colleagues and friends, and encourage them to sign up for free. Follow Jinfo on Twitter, Facebook or LinkedIn. Send your feedback, comments and suggestions using our Contact Form, and we'd love it if you could provide a Testimonial.
The Jinfo Newsletter (ISSN 1460-7239) is published by Jinfo Limited. Whilst all reasonable care has been taken to ensure the accuracy of the publication, the publishers cannot accept responsibility for any errors or omissions. Product names used in Jinfo are for identification purposes only, and may be trademarks of their respective owners. Jinfo disclaims any and all rights in those marks. All rights reserved.
Jinfo Limited is registered in England and Wales. Registered Number: 3754481. Registered Office: Lynch Farm, The Lynch, Kensworth, Beds, LU6 3QZ.
Copyright Jinfo Limited 1997-2021
---
« Previous Newsletter
About this Newsletter
Publication Date: 9th September 2021
Keep up-to-date with the latest from Jinfo Research by email twice-monthly.
Latest: No.574 9th September
What's new at Jinfo?
Jinfo Overview - August 2021
View on YouTube
---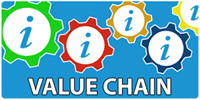 Five newly recorded webinars on how to complete the activities in our Focus on Value Chain now available.
---
Express value the way stakeholders do with Value Chain analysis
"I can now sit in a meeting with my stakeholders and articulate the role information plays in their workflows. They understand our contribution to their success." Information Senior Scientist, heavy manufacturing industry
---
With Jinfo Consulting, you get accountability, fine-tuned guidance and industry-wide perspective.