Content licensing – we get it
Jinfo Blog
Monday, 25th October 2021
Abstract
Why is it so hard for information professionals to influence and drive an organisation's strategy? This latest Jinfo blog offers insights from our most recent Community session on content licensing; and outlines what's coming up next.
Item
It's an evergreen topic at conferences, and indeed at any time or place where information professionals congregate: Why is it so hard for us to influence and drive the organisation's information strategy?
In a world where information is gold, we shouldn't ever hear about information teams being outsourced or dismantled.
In Jinfo's Focus on Content Portfolio, those of us with expertise and interest in the details of content licensing find our peer group – the other people who "get it" and are taking a variety of approaches to articulating value. You can learn from them; I learn a lot from them.
From last month's Community session, "Teeing up value-based conversations for content licensing", here are a handful of the insights shared by participants:

[We are] creating communities of interest made up of the people who can best provide feedback and perform evaluations. Bringing the right people to the table and controlling the process – the right goals, with a facilitator, holding to timelines – can really help.

We have a very formal content advisory board with representatives from each of our businesses. In the first year of the board, our main project was simply to share a comprehensive list of what we license and who uses it. Now that they've had that background, we can talk more about how products are used and why. These discussions need to happen live, not via email, and the people involved must have budget authority.

We always have a documented list of what we expect from our vendors – objective things that can be measured. Making them aware of these standards gives us some control in negotiations.
We have only a few seats left in the upcoming Community session, "Investment philosophies for strategic portfolio management" – contact me at stephen.phillips@jinfo.com, and if you're a Jinfo client, I can try to get you in.
If you have questions or frustrations about licensing, value, or why you have to re-educate stakeholders every few years, your peer group is waiting to help. Contact me at any time to learn more.
About this article
Blog post title: Content licensing – we get it
What's new at Jinfo?
Holding vendors to account
Thursday, 15th December 2022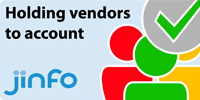 Community dates
---
[New] The Jinfo Subscription is back by popular demand!
13th October 2022
---
"Are you in a "proactive state of resilience"?"
15th November 2022
With the year end looming, our clients are closing out their 2022 deliverables and turning their attention to 2023 and the challenge of a more uncertain operating environment.
Read on the Blog