Meet these four requirements to make progress on information strategy
Jinfo Blog
29th June 2022
Abstract
The best strategic plan goes nowhere if you don't take action to implement it. Information managers shared at a recent Jinfo Community session their best tips for breaking their information strategies down into smaller pieces and staying on track with progress whilst keeping up with "business as usual". Their suggestions align with Jinfo's analysis of the four requirements necessary for managing a strategy implementation plan, as outlined in our most recent addition to the Focus on Centre of Excellence.
Item
Amongst the tips and suggestions raised by participants in our June Community session, "Plan your work, work your plan", was an insight that relates directly to freshly published material on Jinfo:
A simple framework, used diligently, enables progress on information strategy.
The design of a simple framework is exactly what we describe in our Focus on Centre of Excellence, in the newly published "Step six - make practical progress".
The webinar and accompanying activity in this step explain what goes into an effective, basic framework – no fancy project management software required.
The "management layer" is critical to drive and document progress, and it has only four requirements:
Timeline or overview - a visual reference for progress
Workspace - a designated space, with governance, for where the work gets done
Process documentation - the "recipes" required for the work
Review or reporting - a framework like a scorecard or a project progress graphic.
The tools you already have on your desktop are more than adequate to meet the four requirements of a management layer that facilitates steady progress as you execute on your strategic plan.
Jinfo clients can get started by viewing the recorded webinar, "Making strategy operational", then completing the activity, "Prototype your management environment".
More than one participant in the June Community session also shared the unexpected benefits of meeting the fourth requirement - review and reporting.
Their tip: Define at the start of your strategy project what you'll look at monthly or quarterly to ensure progress. In their own words:
"Because my report is organised by my Pillars of Service, it's easy to see where I'm making progress and where I might be off-track."
"Our scorecard has simplified what we collect and look at regularly - which makes it easier to keep up. It focuses our attention on what the data means, rather than on the data itself."
"When we use it for our own management purposes, reporting isn't a 'data' exercise; it's a 'value' exercise."
Too many excellent strategic plans never make it into operations. If yours suffers from loss of focus, lack of progress or uncertain value and impact, talk with us. We can help you plan your work; we can help you work your plan.
Contact us to become a client before the remainder of our 2022 capacity is filled.
About this article
Blog post title: Meet these four requirements to make progress on information strategy
What's new at Jinfo?
Pivoting to meet the GenAI challenge
Community session
13th December 2023
---
Empower your stakeholders
Blog posting
5th December 2023
---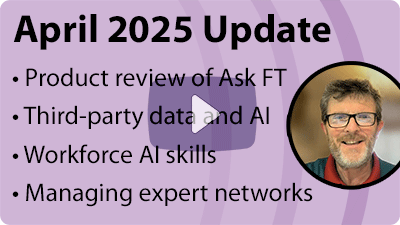 Jinfo December 2023 Update
YouTube video
7th December 2023