Right tools for the job - Jinfo for optimising an information team
Jinfo Blog
Monday, 9th December 2019
Abstract
The right tools make the job easier, faster, even cheaper. Jinfo's latest research offers a sampler of tools designed to make your work easier, freeing you up for higher-value work - the fundamental goal of all optimisation efforts.
Item
It's no secret that we at Jinfo are big believers in investing in the right tools to enable your team to operate efficiently. Too often, we see false economy in using manual data management and spreadsheets (always the spreadsheets!) to manage things that can be handled more simply with purpose-built tools.
Recent resources in Jinfo offer examples of these tools. We have a product review of ResearchMonitor, a handy tool that simplifies the process of managing user access to databases and information products, and also collects usage data in a consistent format so that you can do the analysis you need to.
Market landscapes explore two types of potentially time-saving technologies, which pique interest and also raise concerns for information professionals. Learn about web-scraping tools and auto-summarisation tools - these technologies have come a long way and deserve consideration, even whilst balancing questions about quality and use case. Our overview article explains both in more detail and suggests how you can get value without introducing undue risk.
Other emerging technologies with the potential to help you optimise your information team include chatbots and digital adoption platforms - check out this overview article.
The current Research Focus, "Intelligence systems - intelligence 2020" includes a number of product reviews and case studies aimed at helping you use technology to free up your team's time for analysis and other higher-value activities. Recent coverage includes Northern Light SinglePoint and Intelligence2day.
In the end, however, tools are only there to support the skill, expertise and value of your team. Get the most out of them with Jinfo's "Maturity model on remote teams", "Model - recipe capture and optimisation" and tips article on "Activating global teams".
If you're focused on optimising the work of your team in 2020, you are not alone - join the Community session, "Jinfo for optimising your information service" on 6th January 2020, to discuss approaches and compare challenges and successes with your peers. It's included with your Jinfo Subscription, so register today.
About this article
Blog post title: Right tools for the job - Jinfo for optimising an information team
What's new at Jinfo?
Jinfo Overview - August 2021
View on YouTube
---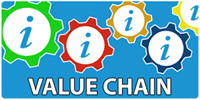 Five newly recorded webinars on how to complete the activities in our Focus on Value Chain now available.
---
Express value the way stakeholders do with Value Chain analysis
"I can now sit in a meeting with my stakeholders and articulate the role information plays in their workflows. They understand our contribution to their success." Information Senior Scientist, heavy manufacturing industry
---
With Jinfo Consulting, you get accountability, fine-tuned guidance and industry-wide perspective.
Benefit from our research
Our proven processes, resources and guidance will help your team make the shift from transaction centre to strategic asset.
---
Designed around the most common challenges and pain points for time- and resource-strapped information teams
Optimise your operations
Holistic content portfolio management
Future-proof your information service
Executive-ready communications
---
A tailored overview of our research and active discussion with your Jinfo analyst.
---
Measure your starting point to articulate your strengths and set priorities for future improvements. Assessments gauge risk, capacity, value and more.
---
Read case studies, and start the conversation:
Connect your team with the practical tools, original research and expertise to build and support information strategy in your organisation.
Jinfo Content and Community gives access to all Content (articles, reports, webinars) and Community.