Gain confidence and trust through new vocabulary
Jinfo Blog
Wednesday, 13th October 2021
Abstract
What are your Known Fors, and what would you like them to be? We're trying to encourage clients to be more ambitious, to give themselves permission to imagine. Consulting on Centre of Excellence can be the first step in charting your own destiny.
Item
Consulting on Centre of Excellence gives us a chance to work directly with information teams as they adapt our tools to their needs and environment.
A current project with an information team in the manufacturing industry has given me a front-row seat for observing the subtle but important difference our process makes in how the team communicates its value to the business.
First, they worked through the activity outlined in "Step three - envision your Known Fors", in Jinfo's Focus on Centre of Excellence. Then we led them through an online workshop on their results.
As is the case with so many Jinfo clients, our primary feedback and coaching has been to encourage them to be far more ambitious in what they aspire to be "Known For":
A source of "expert advice" instead of "support and enablement"
A strategic asset in digital R&D and other business processes
Organisation-focused, instead of information-focused.
During these workshops, there's often an implicit question of, "How is that ever going to happen?" That scepticism is normal – most information teams have struggled for a long time to find a way of communicating their unique value to the business.
But the first step in realising your Known Fors is to give yourself permission to imagine them. In the words of one Jinfo client:
'There is a huge return on investment in this work. ... We call it "charting our own destiny".'
– Director of Information Services, global pharmaceutical company
Start charting your destiny using the five steps outlined in Jinfo's Focus on Centre of Excellence. And, if you need that external perspective to fire up a bigger vision of what you can become, talk to us about consulting.
This item was featured in the most recent Jinfo Newsletter. The Jinfo Newsletter brings you updates on Jinfo's research, latest resources and tips. If you're not yet receiving it, register here (free).
About this article
Blog post title: Gain confidence and trust through new vocabulary
What's new at Jinfo?
Holding vendors to account
Thursday, 15th December 2022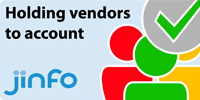 Community dates
---
[New] The Jinfo Subscription is back by popular demand!
13th October 2022
---
"Are you in a "proactive state of resilience"?"
15th November 2022
With the year end looming, our clients are closing out their 2022 deliverables and turning their attention to 2023 and the challenge of a more uncertain operating environment.
Read on the Blog