Newsletter No. 576
« Previous Newsletter
Next Newsletter »
---
Newsletter 576

7th October



Is your content advisory board primed for strategy in 2022?

When information teams that support R&D tell me they work with a content advisory board, I get excited. Those are the teams that are best positioned to be recognised as critical strategic partners in driving value in the business.
The reason for this is simple: Value Chain analysis of how information affects outcomes for digital R&D is measurable, clear to stakeholders and relatively easy to conduct.
Content advisory boards are the ideal platform through which information teams can apply Value Chain analysis to:
Shift stakeholder perception – and discussion – of information from a cost to a strategic asset
Develop action plans for portfolio management and service delivery that tie information to R&D outcomes in measurable ways
Get in front of planning for future information needs, significant changes like acquisitions, and inevitable adjustments the business makes in response to changing conditions.
Through Consulting on Value Chain, we're kicking off projects with two Jinfo clients who have ambitions for more strategic conversations with their advisory boards in 2022. Both have their next board meetings scheduled for February 2022. They're priming for strategy by:
Articulating the discussions their boards need to have in September 2022
Simplifying their Value Chain analyses for easy, regular reinforcement with this key group of senior stakeholders
Planning activities and identifying key performance indicators for evolving their advisory boards over the coming months.
Come February, they'll launch the year's advisory board activities with focus, confidence and a strategy they own and drive forward.
We'd love to talk to you about using Value Chain analysis to prime your content advisory board for strategy in 2022 – or whenever your next planning cycle starts. Contact me at robin.neidorf@jinfo.com or enquire today.
Robin Neidorf
Director of Research




Manage your content portfolio for risk

During the September Community session in our Focus on Content Portfolio, we polled attendees on the relevance in their organisations of the most common points of value: efficiency, innovation, generating revenue, risk management, transparency and smarter decisions.
We weren't expecting "risk management" to emerge as most relevant.
But on further reflection, this result should have been no surprise. As organisations settle into the post-pandemic operating environment, risk management dominates many discussions and decisions.
Consider all the perceived threats – cyber, environmental, supply chain, social, regulatory and operational – and the many information sources that could contribute to managing them.
As always, content licensing teams aspire to measure and strengthen the ROI of third-party information value. When the organisation is focused on risk management, this means analysing:
The different processes in place to manage different types of risk
Where and how external information contributes to the successes of those processes
What core principles are consistent across different types of risk management.
By doing so, you seed a different type of internal conversation about risk management altogether. You are able to establish consistency for work that is often fragmented across a number of teams and departments, with little or no coordination for what information is needed or how it's used.
If you're ready to influence those internal conversations while developing metrics for the ROI of risk-related information, talk to us about Consulting on Content Portfolio. We can help you strengthen and communicate your content strategy, whilst advancing a critical corporate conversation.
Stephen Phillips
Senior Analyst




Gain confidence and trust through new vocabulary

Consulting on Centre of Excellence gives us a chance to work directly with information teams as they adapt our tools to their needs and environment.
A current project with an information team in the manufacturing industry has given me a front-row seat for observing the subtle but important difference our process makes in how the team communicates its value to the business.
First, they worked through the activity outlined in "Step three - envision your Known Fors", in Jinfo's Focus on Centre of Excellence. Then we led them through an online workshop on their results.
As is the case with so many Jinfo clients, our primary feedback and coaching has been to encourage them to be far more ambitious in what they aspire to be "Known For":
A source of "expert advice" instead of "support and enablement"
A strategic asset in digital R&D and other business processes
Organisation-focused, instead of information-focused.
During these workshops, there's often an implicit question of, "How is that ever going to happen?" That scepticism is normal – most information teams have struggled for a long time to find a way of communicating their unique value to the business.
But the first step in realising your Known Fors is to give yourself permission to imagine them. In the words of one Jinfo client:
'There is a huge return on investment in this work. ... We call it "charting our own destiny".'
– Director of Information Services, global pharmaceutical company
Start charting your destiny using the five steps outlined in Jinfo's Focus on Centre of Excellence. And, if you need that external perspective to fire up a bigger vision of what you can become, talk to us about consulting.
Susan Gleckner
Senior Analyst

Client Tip: Every improvement you make has to contribute value. If you're planning 2022, start with a review of your place in the value chain to support your planning for the new year: How well do you know the value chain?
---

"The whole Centre of Excellence process made me stop and think about things in a different way, as a whole instead of bits of the picture. At the end, we came up with strategic goals for the next 18 months – a period of time we can manage. I've shown these to my manager, and she thinks they are really good."
Information Centre Manager, country central bank.
More testimonials
About Jinfo
Please forward this email to colleagues and friends, and encourage them to sign up for free. Follow Jinfo on Twitter, Facebook or LinkedIn. Send your feedback, comments and suggestions using our Contact Form, and we'd love it if you could provide a Testimonial.
The Jinfo Newsletter (ISSN 1460-7239) is published by Jinfo Limited. Whilst all reasonable care has been taken to ensure the accuracy of the publication, the publishers cannot accept responsibility for any errors or omissions. Product names used in Jinfo are for identification purposes only, and may be trademarks of their respective owners. Jinfo disclaims any and all rights in those marks. All rights reserved.
Jinfo Limited is registered in England and Wales. Registered Number: 3754481. Registered Office: Lynch Farm, The Lynch, Kensworth, Beds, LU6 3QZ.
Copyright Jinfo Limited 1997-2021
---
« Previous Newsletter
Next Newsletter »
About this Newsletter
Publication Date: 7th October 2021
Keep up-to-date with the latest from Jinfo Research by email twice-monthly.
Latest: No.599 1st December
What's new at Jinfo?
Holding vendors to account
Thursday, 15th December 2022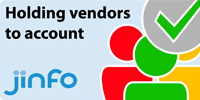 Community dates
---
[New] The Jinfo Subscription is back by popular demand!
13th October 2022
---
"Are you in a "proactive state of resilience"?"
15th November 2022
With the year end looming, our clients are closing out their 2022 deliverables and turning their attention to 2023 and the challenge of a more uncertain operating environment.
Read on the Blog