Value Chain analysis – it just works
Jinfo Blog
Monday, 1st November 2021
Abstract
The fundamental shift that Value Chain analysis gives clients and their stakeholders means Jinfo's consulting calendar is already filling up for 2022. If you're looking to quantify and strengthen the ROI of information products, services and expertise, get in touch. Stress-tested in our Community sessions, Value Chain analysis works.
Item
Over the past two and a half years, we have iterated on the research that has coalesced as our Focus on Value Chain.
In that same period, we have added senior analysts – Stephen Phillips and Sue Gleckner – to the Jinfo team who balance my research "in the lab", as it were, with their practical experience running complex, global information functions.
With this growth, we have been able to respond to the best testimonials possible: returning clients. Our calendar for consulting projects in early 2022 is already nearing capacity with clients who have:
Started the process of Value Chain analysis
Experienced the fundamental shift it gives them and their stakeholders
Committed to deepening and expanding that work in the coming year.
But we're still a small team, and our capacity is limited.
So, if you are considering how to quantify and strengthen the ROI of information products, services and expertise in 2022, particularly in the first half of the year, please contact us as soon as possible to start the conversation on Consulting on Value Chain.
Since we first published the initial research outlining our methodology for connecting information products, services and expertise with business outcomes, we've applied the Value Chain methodology with dozens of information teams.
We've also presented these concepts to account managers at information suppliers who want their customers to be smarter buyers of information.
We've stress-tested the methodology through consulting projects and discussed the results in Community sessions.
But we haven't yet worked with you.
If you are ready to close the gap between what you intuit about information value and what you can objectively measure and communicate, contact us today.
About this article
Blog post title: Value Chain analysis – it just works
What's new at Jinfo?
Holding vendors to account
Thursday, 15th December 2022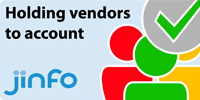 Community dates
---
[New] The Jinfo Subscription is back by popular demand!
13th October 2022
---
"Are you in a "proactive state of resilience"?"
15th November 2022
With the year end looming, our clients are closing out their 2022 deliverables and turning their attention to 2023 and the challenge of a more uncertain operating environment.
Read on the Blog