2022: the more things change, the more they stay the same
Jinfo Blog
1st December 2022
Abstract
2022 started with confidence riding high, but eleven months later, things are very different. Yet our clients tell us they face the same, perennial demands: drive costs down; drive value up; deliver hyper specific business and competitor intelligence; and the ongoing war for talent to address these demands.
Item
2022 started optimistically for most. Coming out of the pandemic, markets were riding high, work pipelines were looking good and business leaders and commentators were sounding confident.
Eleven months on, much has changed, although many things remain the same:
Whilst the countdown to the end of the year has well and truly begun, it feels like we will all be living with the legacies of 2022 for some time to come.
There is still time to act. If you have budget left for 2022, use it on a Jinfo Subscription. It will pay for itself many times over in 2023, I guarantee it.
About this article
Blog post title: 2022: the more things change, the more they stay the same
What's new at Jinfo?
Let's talk about managing up
20th April 2023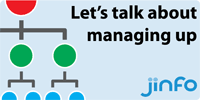 Community dates
---
[New] The Jinfo Subscription is back by popular demand!
---
"The goalposts keep moving..."
1st March 2023
Corporate belt-tightening continues and we are all being asked to do "more with less". But how practical is it to maintain service levels with diminishing resources? Before the straw breaks the proverbial camel's back, how do information leaders proactively manage stakeholders' expectations and resist the urge to "make do and mend" when budgets are tight?
Read on the Blog