What a difference a year makes….
Jinfo Blog
1st February 2023
Abstract
2023 is turning out to be a very different prospect to 2022. Many information leaders have seen changes in their reporting lines as well as dealing with economic headwinds. This is a particularly difficult combination, so information leaders need to focus on articulating their value and maintaining a positive mindset.
Item
With the days drawing out and the festive season a distant memory, attention is turning to 2023 in earnest.
Our clients continue to express their concern at the prospect of a difficult year ahead. Many are dealing with the unsettling effects of a reporting-line change and new leadership that is trying to make a good impression.
Effective information leaders will:
Maintain a positive mindset: call out the things you can do, not the reasons you can't
Focus on facts and be realistic
Stay curious; now is a great time to document how you are supporting organisational objectives.
It is vital to know and articulate the value you can offer to help the business manage costs.
Our forthcoming Community events will help you with these challenges:
Register for "Building competitive advantage" (9th February 2023). Competitive Intelligence is an increasingly vital discipline in helping organisations build and protect their franchise. Denise Carter will discuss the opportunities for Information Leaders in CI and answer your questions.


The follow up article to our January Community session "Let's talk talent" is now available. Simon Burton of CB Resourcing provided some invaluable insights into the current state of the market, and top tips on attracting, recruiting and retaining the best talent in a highly competitive market.


In March we will be talking about outsourcing and offshoring (9th March 2023). We know that some of you are using remote teams, whilst others are waiting for the call! Register now to learn from other leaders about the strengths, weaknesses and opportunities associated with this strategy.
We continue to strive to develop our Community sessions and Content to meet your needs. Tell us what you want to talk about and we will bake it into our 2023 plans.
If you would like to learn more about becoming a Jinfo client, please use this form to schedule a call with me.
About this article
Blog post title: What a difference a year makes….
What's new at Jinfo?
Pivoting to meet the GenAI challenge
Community session
13th December 2023
---
Empower your stakeholders
Blog posting
5th December 2023
---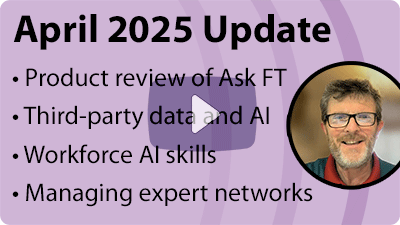 Jinfo December 2023 Update
YouTube video
7th December 2023