More effective vendor negotiations
Jinfo Blog
3rd April 2023
Abstract
Information managers continue to come under pressure to produce savings and efficiencies. Our new Vendor negotiation checklist will help you prepare more effectively for future negotiations.


Item
With the recent events in the financial services industry and rising interest rates, information teams are coming under even more pressure to produce savings and efficiencies.
We're working hard to produce resources for information services to support business development and make cost savings:
Our brand new Vendor negotiation checklist will streamline preparations for renewals, document opportunities and levers, and optimise your negotiation strategy.


April 20th's Community session "Let's talk about managing up" will share top tips on managing your manager in these challenging times. Register now.


Read the article "Let's talk about offshoring" following March's Community session, to get the trends and insights on how to work successfully with offshore teams to drive more value.


Our May Community session will likely focus on the impact of artificial intelligence (AI) on the information industry. Details soon, but save the date of 23rd May.
We're also strengthening our understanding of vendor roadmaps and product strategies, so if you want to work with Jinfo on this, please contact me.
About this article
Blog post title: More effective vendor negotiations
What's new at Jinfo?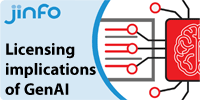 Community session: Legal implications of licensing third party content for GenAI
24th October 2023
Community dates
---
"Talent management, legal news cut, generative AI developments and new products"
5th September 2023
Learn about the vital role of nurturing the talent pipeline and succession. There's now a legal cut of our news and current awareness survey. And a real need for information managers to assert themselves to maximise the value of generative AI and mitigate the risks.
Read on the Blog