Managing Risk and Keeping Compliant - Free Resources for Info Hounds
Jinfo Blog
Tuesday, 9th September 2014
Abstract
Subscriptions to the risk & compliance databases offered by the "big three" are unaffordable for small organisations or self-employed researchers. Penny Crossland highlights some free resources from a variety of organisations and online sites.
Item

Keeping abreast of the constantly changing regulatory environment is a challenging task for information professionals, especially for those of us working in Anti-Money Laundering (AML) or Know Your Customer (KYC) functions.
However, there is valuable, up-to-date and free information available from regulatory organisations, industry publications, practitioners, online forums and NGOs.
In some cases, the providers of expensive risk & compliance databases also provide useful free information and resources, which are worth bookmarking. Some of these I have discussed in my article on free online resources in the risk & compliance sphere here.
In this article I focus on another useful resource:
The Business Anti-Corruption Portal
Small companies, in particular, may find it difficult to find the resources and time to keep up with the regulatory environment and for these firms the Business Anti-Corruption Portal will be particularly useful.
The BAC portal is produced by a Danish organisation called Global Advice Network Integrity Solutions, a consultancy offering advice on anti-fraud and corruption strategies, with funding from the EU.
Country Profiles
The portal is filled with a description of the key aspects of relevant legislation pertinent to businesses like the UK Bribery Act and the US Foreign Corrupt Practices Act, as well as global legislation like the OECD Convention on Combating Bribery.
More than 100 country profiles provide brief guides to the state of corruption, with links to relevant news. Where available, these useful guides also provide a breakdown of corruption levels within the various branches of the government.
So, for example, the profile on Tanzania analyses the level of corruption within the judicial system and the police and looks at corruption within the land, tax and customs administration in the country. Anti-corruption initiatives are highlighted and each profile includes resources such as the respective country's scoring on relevant indices.
The Tanzania snapshot provides the country's ranking in the Transparency International Corruption Index, the World Bank Corruption Index and the OECD Country Risk Classification.
Anti-Corruption Tools
Other BAC features worth highlighting include the Anti-Corruption Tools Inventory, with due diligence tools such as guides on how to vet contractors, consultants and joint venture partners.
I found the sector-specific resources very useful, which provide guidance on anti-corruption legislation, standards and initiatives for the banking, construction, defence and extractive industries, among others. Users are able to subscribe to a BAC Portal newsletter to keep up-to-date with business corruption news worldwide.
Anti-Corruption Training
BAC provides training, and on the portal offers a free elearning module intended as an introduction to employees on bribery and corruption in the business environment.
Via practical scenarios and case studies, employees learn to understand the grey areas surrounding anti-corruption legislation and are made aware of prohibited behaviours in dealing with contractors or other business partners.
Conclusion
The BAC Portal is only one example of the myriad of resources available to KYC researchers on a limited budget. There are plenty of resources that can keep you well-informed of all changes and news in the risk & compliance sector and that can help you search for adverse news. It is merely a question of bookmarking the right sources.
Editor's Note

FreePint Subscribers can log in to read and share more and resources in Risk & Compliance - Free Online Resources.
This article is part of the FreePint Topic Series: What You Need to Know Your Customer (KYC) running from July-September 2014 which includes articles, reviews and expert tips. Register your interest now, and you'll also get a free PDF report with selected premium articles when it's published in September.
About this article
Blog post title: Managing Risk and Keeping Compliant - Free Resources for Info Hounds

Related articles:

Related Blog items:
What's new at Jinfo?
Jinfo Overview - August 2021
View on YouTube
---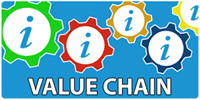 Five newly recorded webinars on how to complete the activities in our Focus on Value Chain now available.
---
Express value the way stakeholders do with Value Chain analysis
"I can now sit in a meeting with my stakeholders and articulate the role information plays in their workflows. They understand our contribution to their success." Information Senior Scientist, heavy manufacturing industry
---
With Jinfo Consulting, you get accountability, fine-tuned guidance and industry-wide perspective.
Benefit from our research
Our proven processes, resources and guidance will help your team make the shift from transaction centre to strategic asset.
---
Designed around the most common challenges and pain points for time- and resource-strapped information teams
Optimise your operations
Holistic content portfolio management
Future-proof your information service
Executive-ready communications
---
A tailored overview of our research and active discussion with your Jinfo analyst.
---
Measure your starting point to articulate your strengths and set priorities for future improvements. Assessments gauge risk, capacity, value and more.
---
Read case studies, and start the conversation:
Connect your team with the practical tools, original research and expertise to build and support information strategy in your organisation.
Jinfo Content and Community gives access to all Content (articles, reports, webinars) and Community.