Usecasehub - keeping you on top of analytics projects
Jinfo Blog
Monday, 18th December 2017
Abstract
Find out what we thought of Usecasehub following our early insight into Evalueserve's new tool for collaboration, oversight and governance of data analytics and AI projects.
Item
A new tool for driving the value of data analytics projects - Usecasehub from Evalueserve - is being launched. And Jinfo has had early insight into the product.
The commercial version of Usecasehub is currently in beta form, and is due to hit the market in the early second quarter of 2018.
But Jinfo Subscribers can sign in now to read "Overview - Usecasehub from Evalueserve", based on our early access to the product.
Bringing Mind+Machine together
Evalueserve - a global provider of systems, services and staff for research, analytics and data management - has created a new product that can create and manage a process framework for your company's data analytics projects.
When it comes to managing data analytics, some of the key problems lie in project scope creep, costs getting out of hand and being hard to manage, and not knowing where one project stops and another starts.
Jinfo's director of research, Robin Neidorf, evaluated Usecasehub and explains, "Evalueserve operates on the principle it calls Mind+Machine: essentially, the idea is that machines should be optimised to do what they do best, freeing up human minds to do what they can do best. At the same time, it's important to recognise the limitations of machines: technology will not make up for poor governance."
Filling an important need in the marketplace
Usecasehub monitors and manages data analytics projects from idea generation through to measurement, with the goal of improving results, speed of time-to-market, and even ensuring effective collaboration.
Jinfo managed to secure a walkthrough of the prototype - and a little peek at the live version as well - to discover the key objectives that make a difference between quality and chaos in analytics strategy.
"Usecasehub anticipates and addresses the barriers that prevent good governance, knowledge management and ROI achievement," adds Robin.
This Jinfo report looks at:
How organisations manage their data analytics strategy and objectives
How Evalueserve has created what they class as a solution - does Jinfo agree?
What makes a difference when it comes to managing analytics strategies
The advantages of the Usecasehub platform
Who will benefit from the Usecasehub
A closer look at the platform environment
Implementation challenges
Value
Competitors
Pricing
Contact details should you wish to find out more.
Jinfo Subscribers can sign in now to read "Overview - Usecasehub from Evalueserve".
About this article
Blog post title: Usecasehub - keeping you on top of analytics projects

Related articles:

Related reports:
What's new at Jinfo?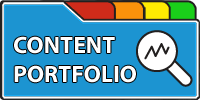 Latest in this Focus: Scorecards. Use Jinfo's step-by-step methodology to craft scorecards to strengthen negotiations, communicate with stakeholders, compare value of products and manage your portfolio more strategically.
---
What's your priority?
Use our self-assessment worksheet to determine your pathway towards more strategic portfolio management: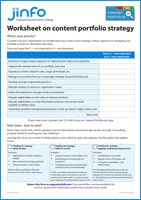 ---
A Jinfo Subscription gets you access to activity-based content to move your projects forward, plus dynamic peer group discussions on meaty topics.
Benefit from our research
Our proven processes, resources and guidance will help your team make the shift from transaction centre to strategic asset.
---
Designed around the most common challenges and pain points for time- and resource-strapped information teams
Optimise your operations
Holistic content portfolio management
Future-proof your information service
Executive-ready communications
---
A tailored overview of our research and active discussion with your Jinfo analyst.
---
Measure your starting point to articulate your strengths and set priorities for future improvements. Assessments gauge risk, capacity, value and more.
---
Read case studies, and start the conversation:
Connect your team with the practical tools, original research and expertise to build and support information strategy in your organisation.
A Jinfo Subscription gives access to all Content (articles, reports, webinars) and Community.