Newsletter No. 596
« Previous Newsletter
---
Newsletter 596

22nd September


Is the client always right?


I previously reflected on a recent client experience of adjusting their processes to take account of their "users' expressions of value" (see previous Blog). Clearly, user feedback is vital, but there may be times when you need to use your expertise to ensure your organisation makes smart decisions about information products.
One of these situations cropped up recently when a Jinfo client called me and said:
"My stakeholders want to know why we can't use Google news!"
This might trigger a defensive response in many Information Leaders. Diving into the complexities of coverage, indexing, metadata, as well as a whole host of other technical reasons is unlikely to resonate with your Stakeholders.
At Jinfo, we recommend a more critical approach, addressing the question by articulating the needs, use cases and interests of the organisation and your Stakeholders.
Always start with the end in mind (a key principle in Jinfo's Value Chain methodology):
Understanding why information is used enables you to demonstrate the importance of accuracy, breadth of coverage, sources, timeliness, voracity and reliability of the content;


Understanding how information finds its way into the business may reveal that end users lack critical skills to get good outcomes from "public" news tools. For example: search algorithms skew results to create or reinforce bias;


There are significant risks associated with public news sites, with few (if any) contractual safeguards or privacy controls.
Capturing and articulating key concerns in the context of "protecting the organisation" enables you to convey concerns in your Stakeholder's language. If they are not convinced, maybe it is time to run a pilot? Google News might be "good enough" for some purposes, which may give you leverage with your preferred supplier.
It's never too late to start developing your strategy and priorities for managing your portfolio and engaging your stakeholders. Jinfo works with information leaders on their information strategy.
Contact us if you would like to discuss how we can help you develop your capabilities and enhance your credibility.
---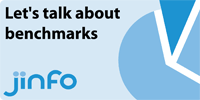 Let's talk about benchmarks
Jinfo Community
18th October 2022
The challenges on global organisations to successfully manage the ever increasing demand for new information and optimise costs, has never been greater.
Understanding how and why your own organisation compares to its peers is often very difficult without having access to a large network of industry professionals who are willing to share.
This Community session is an opportunity to share your insights on benchmarking, learn how benchmarks can inform decision making and contract negotiations, and turbocharge your understanding of how you compare to your peers.

---


"Jinfo has helped to rebalance the work of the team to focus on their strategic priorities."
Head of Information, global pharmaceutical company
More testimonials
---
About Jinfo
Please forward this email to colleagues, and encourage them to sign up for free. Follow Jinfo on Twitter, Facebook, LinkedIn and YouTube. Send your feedback, comments and suggestions using our Contact Form, and we'd love it if you could provide a Testimonial.
The Jinfo Newsletter (ISSN 1460-7239) is published by Jinfo Limited. Whilst all reasonable care has been taken to ensure the accuracy of the publication, the publishers cannot accept responsibility for any errors or omissions. Product names used in Jinfo are for identification purposes only, and may be trademarks of their respective owners. Jinfo disclaims any and all rights in those marks. All rights reserved.
Jinfo Limited is registered in England and Wales. Registered Number: 3754481. Registered Office: Lynch Farm, The Lynch, Kensworth, Beds, LU6 3QZ.
Copyright Jinfo Limited 1997-2022
---
« Previous Newsletter
About this Newsletter
Publication Date: 22nd September 2022
Keep up-to-date with the latest from Jinfo Research by email twice-monthly.
Latest: No.596 22nd September
What's new at Jinfo?
Upcoming Community sessions
---
"Is the client always right?"
21st September 2022
Whilst user expressions of value are important, they should be treated with caution. Information leaders can offer significant value by enabling smart decisions about information products and services. Realising this potential hinges on your ability to frame the question and offer potential solutions that serve the best interests of your organisation.
Read on the Blog