Content
Grounded in original research, Jinfo Content helps you turn our insight into action on critical information challenges.
Available to Jinfo clients, our articles, reports and recorded webinars bring you practical ideas, case studies, tips and models for change.
Filter the list below:
What's new at Jinfo?
Let's talk about managing up
20th April 2023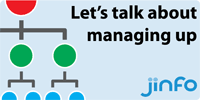 Community dates
---
[New] The Jinfo Subscription is back by popular demand!
---
"The goalposts keep moving..."
1st March 2023
Corporate belt-tightening continues and we are all being asked to do "more with less". But how practical is it to maintain service levels with diminishing resources? Before the straw breaks the proverbial camel's back, how do information leaders proactively manage stakeholders' expectations and resist the urge to "make do and mend" when budgets are tight?
Read on the Blog