FreePint Report: Know Your Customer Published
Jinfo Blog
Monday, 3rd November 2014
Abstract
The FreePint Report: Know Your Customer has been published, which marks the end of our recent Topic Series on risk and compliance. Product reviews, Q&As, articles & analysis on subjects from the impact of regulatory change to key vendors in the regulatory space are included in the report.
Item
The FreePint Report: Know Your Customer is now available online.
This collection of FreePint articles on the topic of risk and compliance covers those included in the FreePint Topic Series: What You Need to Know Your Customer (KYC). The articles tackle topics from the changing compliance culture to free resources for managing risk and keeping compliant. A review of Reg-Track is included along with a product update of Compliance Catalyst and Q&As with Dow Jones and RDC.
Read the PDF online, download it or share it with colleagues to find out more about our latest product reviews, articles and news and analysis in the risk and compliance field:
Includes:
FreePint Subscribers can log in to read and share more in the FreePint Report: Know Your Customer.

About this article
Blog post title: FreePint Report: Know Your Customer Published

Related articles:

Related Blog items:
What's new at Jinfo?
Jinfo Overview - August 2021
View on YouTube
---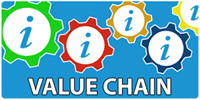 Five newly recorded webinars on how to complete the activities in our Focus on Value Chain now available.
---
Express value the way stakeholders do with Value Chain analysis
"I can now sit in a meeting with my stakeholders and articulate the role information plays in their workflows. They understand our contribution to their success." Information Senior Scientist, heavy manufacturing industry
---
With Jinfo Consulting, you get accountability, fine-tuned guidance and industry-wide perspective.
Benefit from our research
Our proven processes, resources and guidance will help your team make the shift from transaction centre to strategic asset.
---
Designed around the most common challenges and pain points for time- and resource-strapped information teams
Optimise your operations
Holistic content portfolio management
Future-proof your information service
Executive-ready communications
---
A tailored overview of our research and active discussion with your Jinfo analyst.
---
Measure your starting point to articulate your strengths and set priorities for future improvements. Assessments gauge risk, capacity, value and more.
---
Read case studies, and start the conversation:
Connect your team with the practical tools, original research and expertise to build and support information strategy in your organisation.
Jinfo Content and Community gives access to all Content (articles, reports, webinars) and Community.