Newsletter No. 608
« Previous Newsletter
---
Newsletter 608

7th September 2023

Managing the talent pipeline and succession
As organisational hierarchies have become flatter, the gap between the information leaders and their teams has steadily grown.
Succession planning is a difficult but vital activity to nurture skills and know-how for future leaders.
Setting aside concerns that you might be working your way out of your role, investment in the next generation is vital to ensure information management remains a core competency of the organisation.
Also, can information managers do a better job of articulating their value, to arrest the trend of organisations transferring their function to the ownership of a general manager?
Register for "Managing the talent pipeline & succession" (14th September 2023) to discuss these topics, and hear strategies for mitigating the risk and cost of knowledge loss through attrition. Register now.
Legal cut of our News and current awareness survey 2023
Based on the results of our recent News and current awareness survey, we have released a legal sector cut of the data.
We are currently working on a cut of the data to focus on organisations with over 20,000 employees. If you would like us to suggest a breakdown of the data, please contact us.
GenAI call-to-action for information leaders
Whilst we recognise that Generative AI (GenAI) has the most potential to augment people, there is a very real risk that it will displace entry level knowledge workers from many organisations.
I strongly recommend you watch my discussion with three AI company CEOs, to hear a clear call-to-action for information leaders to maximise the value and mitigate the risks of this technology.
On a related note, I recently saw a demo of GenAI in action in a demo of Northern Light's "SinglePoint" product. This uses GenAI and NLP (Natural Language Processing) technologies to capture content from a closed set of sources, limits its processing to these inputs to prevent hallucinations, as well as references and maps all key concepts to the source.
Look out for more information on this and other interesting product developments from Jinfo.
Socials
Do continue to follow Jinfo's latest updates on LinkedIn and YouTube, where we'll soon be posting snippets from the GenAI discussion.
Please remember to like, follow or subscribe to Jinfo and receive these updates as soon as they are available.
I'm always available for a conversation about the benefits of a Jinfo Subscription and Jinfo Consulting.
---
---
---
Watch our September 2023 Update to learn more about our September Community session on succession planning, our legal cut of the News and current awareness survey, and a recent demonstration we were given of a new AI product.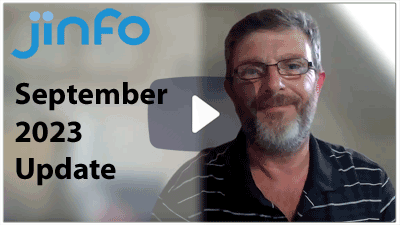 ---
Connect your team with the practical tools, original research and expertise to build and support information strategy in your organisation.
Unique and practical research-based insights and peer-to-peer discussion not available anywhere else.
A Jinfo Subscription gives two users at your organisation access to Content and Community for one year.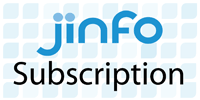 ---

"When it comes to my Jinfo subscription renewal, it's an absolute no brainer."
Information leader, legal
More testimonials
---
About Jinfo
Please forward this email to colleagues, and encourage them to sign up for free. Follow Jinfo on LinkedIn, YouTube, Twitter and Facebook. Send your feedback, comments and suggestions using our Contact Form, and we'd love it if you could provide a Testimonial.
The Jinfo Newsletter (ISSN 1460-7239) is published by Jinfo Limited. Whilst all reasonable care has been taken to ensure the accuracy of the publication, the publishers cannot accept responsibility for any errors or omissions. Product names used in Jinfo are for identification purposes only, and may be trademarks of their respective owners. Jinfo disclaims any and all rights in those marks. All rights reserved.
Jinfo Limited is registered in England and Wales. Registered Number: 3754481. Registered Office: Lynch Farm, The Lynch, Kensworth, Beds, LU6 3QZ.
Copyright Jinfo Limited 1997-2023
---
« Previous Newsletter
About this Newsletter
Publication Date: 7th September 2023
Keep up-to-date with the latest from Jinfo Research by email twice-monthly.
Latest: No.608 7th September
What's new at Jinfo?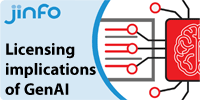 Community session: Legal implications of licensing third party content for GenAI
24th October 2023
Community dates
---
"Talent management, legal news cut, generative AI developments and new products"
5th September 2023
Learn about the vital role of nurturing the talent pipeline and succession. There's now a legal cut of our news and current awareness survey. And a real need for information managers to assert themselves to maximise the value of generative AI and mitigate the risks.
Read on the Blog