Newsletter No. 604
« Previous Newsletter
---
Newsletter 604

4th May 2023
Vendor management template, news and current awareness survey, AI

Vendor management template
Hot off the press is our brand new "Vendor management template", a unique resource that enables you to better manage vendors and hold them to account.
This tool joins our recently-published "Vendor negotiation checklist", which one user immediately emailed us to say:
"This checklist is awesome!"
Both of these tools are available through your Jinfo Subscription, and we welcome your feedback too.
News and current awareness survey
We've been running the survey since 2007, and once again you can benchmark your news and current awareness provision, and re-evaluate your goals, procedures and tools.
Contribute to the survey and receive a free summary of the results, whether you have a Subscription or not.
We will discuss the preliminary results of the survey in our June Community session (20th June). Save the date.
Artificial Intelligence
This month's Jinfo Community session is "Impact of artificial intelligence" (23rd May) when we will kick off the discussion on the impact of artificial intelligence (AI) on the information industry
The technology certainly has potential, but it is not without its challenges. Accuracy, bias, ethics, privacy and intellectual property rights immediately spring to mind.
Given all the hype, how can information leaders urge caution to colleagues without appearing technophobic or obstructive?
Register now and join us on May 23rd.
Top tips for managing up
Finally, we learned some great tips from last month's Community session, about the critical skill of establishing and maintaining a positive working relationship with your manager, for example:
understand the boundaries and dynamics of the management relationship
enable your manager to understand your business and do an elevator pitch
it may be better to consider an exit.
Catch up on all the great advice in the article "Top tips for managing up".
As always, please do contact me if you'd like to discuss the benefits of a Jinfo Subscription or how Jinfo Consulting can support your own challenges with vendor management, news and current awareness, or AI.
---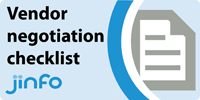 Jinfo Report
This report contains a checklist template you can use when preparing for a vendor negotiation.
Use this checklist to summarise the key facets of a vendor relationship:
Current state of the relationship
Demand, drivers and spend
Key stakeholders and user expressions of value
Competitive landscape
Service performance, risks and mitigations
Scenario planning, negotiating levers and desired outcomes.

---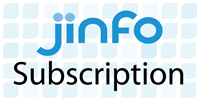 Connect your team with the practical tools, original research and expertise to build and support information strategy in your organisation.
Unique and practical research-based insights and peer-to-peer discussion not available anywhere else.
A Jinfo Subscription gives two users at your organisation access to Content and Community for one year.

---


"Jinfo Consulting helped us work through all our ideas, identify our priorities and define our deliverables. Now we have everything documented in a detailed project plan; the whole team is engaged and excited to be moving forward."
Information Leader, professional services
More testimonials
---
About Jinfo
Please forward this email to colleagues, and encourage them to sign up for free. Follow Jinfo on Twitter, Facebook, LinkedIn and YouTube. Send your feedback, comments and suggestions using our Contact Form, and we'd love it if you could provide a Testimonial.
The Jinfo Newsletter (ISSN 1460-7239) is published by Jinfo Limited. Whilst all reasonable care has been taken to ensure the accuracy of the publication, the publishers cannot accept responsibility for any errors or omissions. Product names used in Jinfo are for identification purposes only, and may be trademarks of their respective owners. Jinfo disclaims any and all rights in those marks. All rights reserved.
Jinfo Limited is registered in England and Wales. Registered Number: 3754481. Registered Office: Lynch Farm, The Lynch, Kensworth, Beds, LU6 3QZ.
Copyright Jinfo Limited 1997-2023
---
« Previous Newsletter
About this Newsletter
Publication Date: 4th May 2023
Keep up-to-date with the latest from Jinfo Research by email twice-monthly.
Latest: No.604 4th May
What's new at Jinfo?
[New] Contribute to the news and current awareness survey 2023
Community session – Initial findings from the News and Current Awareness Survey
20th June 2023
Community dates
---
"Vendor management template, news and current awareness survey, AI"
3rd May 2023
Check out our new vendor management template and contribute to our latest survey on the provision of news and current awareness services. Come along to our next Community session to discuss the impact of AI and get some great tips for managing up from our April session.
Read on the Blog