Newsletter No. 549
« Previous Newsletter
Next Newsletter »
---
Newsletter 549

20th August
---

What would it be worth to be able to show stakeholders who are asking - implicitly or explicitly - for proof of the ROI of investments in information?
Start to solve that problem now:
Join the Conversation on Value Chain, Jinfo's free online discussions scheduled for September.
We designed the Conversation on Value Chain to address a number of questions you were bringing us:
What makes value chain analysis more effective than other approaches to making the case for value?


Won't it take a lot of work to customise to our needs?


How is this going to help us explain the value of information up the chain of command?
I'll be answering these questions and more, using examples from real-world experiences of customers and providing exercises you can start immediately.
There's nothing more exciting than watching information teams take these concepts and make them their own.
The resulting transformation is not just about how you communicate with stakeholders. It's also about staking the place of information expertise right where it belongs - at the strategic heart of the organisation.
You don't need to be a Jinfo customer to join the conversation.
Learn more and register today.
Robin Neidorf
Director of Research and Head of Consulting
---
Same challenges, fresh solutions - value, communication and more.
Free webinar hosted by Springer Nature, featuring Jinfo's research.
Hear from Jinfo's Robin Neidorf on the results of research on the top challenges facing information teams, including demonstrating value, communicating with leadership and more. We'll also present real-world solutions for developing a foundation for communicating value.
Learn more and register here »
---
---
Subscription Tip: Talk with your peers about applying value chain analysis to contract negotiations, and how to analyse the value chain of generating revenue. September and October Community sessions now open for registration: /go/sub/community/
---
Saves time by using our original research and practical resources
Gives you the tools to define, communicate and measure information value
Helps you reinvent your information service through insight into what the best companies do.
---
Research update - Let's talk about value and how to communicate it on 6th August
Join the conversation on value chain analysis by signing up to one of Jinfo's free online discussions in September and find out how you can use this transformative process to measure against your organisation's goals.


Facing the ROI challenge? Value chain analysis is the answer on 27th July
The challenge of connecting information to business goals like efficiency, innovation and generating revenue is top of mind for most information teams. Use Jinfo's framework of analysing value chains to demonstrate ROI, connect information with business outcomes, and develop metrics-based dialogue with stakeholders in terms they understand.
---


"As a result of working with Jinfo Consulting we have identified six key decisions to improve our stakeholder relationships for the long term. We feel like we have already made progress on this, and know we still have work to do. We need to be smart about making the tools and processes easy to use, with clear benefits to how we work, and not a burden!"
Lead, information and knowledge management, global agribusiness
More testimonials
About Jinfo
Please forward this email to colleagues and friends, and encourage them to sign up for free. Follow Jinfo on Twitter, Facebook or LinkedIn. Send your feedback, comments and suggestions using our Contact Form, and we'd love it if you could provide a Testimonial.
The Jinfo Newsletter (ISSN 1460-7239) is published by Jinfo Limited. Whilst all reasonable care has been taken to ensure the accuracy of the publication, the publishers cannot accept responsibility for any errors or omissions. Product names used in Jinfo are for identification purposes only, and may be trademarks of their respective owners. Jinfo disclaims any and all rights in those marks. All rights reserved.
Jinfo Limited is registered in England and Wales. Registered Number: 3754481. Registered Office: Lynch Farm, The Lynch, Kensworth, Beds, LU6 3QZ.
Copyright Jinfo Limited 1997-2020
---
« Previous Newsletter
Next Newsletter »
About this Newsletter
Publication Date: 19th August 2020
Keep up-to-date with the latest from Jinfo Research by email twice-monthly.
Latest: No.574 9th September
What's new at Jinfo?
Jinfo Overview - August 2021
View on YouTube
---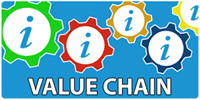 Five newly recorded webinars on how to complete the activities in our Focus on Value Chain now available.
---
Express value the way stakeholders do with Value Chain analysis
"I can now sit in a meeting with my stakeholders and articulate the role information plays in their workflows. They understand our contribution to their success." Information Senior Scientist, heavy manufacturing industry
---
With Jinfo Consulting, you get accountability, fine-tuned guidance and industry-wide perspective.