Documenting the value chain (part 1 - growing revenue)
Jinfo Article
21st June 2019
Abstract
Winning new business is a crucial part of the business development process but without the valuable input of the information team, this couldn't happen. In the first article on documenting the value chain, we offer practical advice on how information professionals can demonstrate their value in this process and includes useful charts and steps you can take to do this.
Content Access
Access to Jinfo Content and Community is available through a Jinfo Subscription.
Does your organisation have a Jinfo Subscription?
"Not yet"
Access to this article is available through a Jinfo Subscription, which will help your organisation:
Save time and money
Re-invent information services
Define, measure and communicate information value.
---
"Don't know"
Contact us to find out if your organisation already has a Jinfo Subscription.

Or use the 'Text Chat' button at the bottom-right of this page for immediate assistance.
About this article

Related articles:

Related reports:
---
What's new at Jinfo?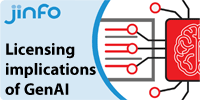 Community session: Legal implications of licensing third party content for GenAI
24th October 2023
Community dates
---
"Talent management, legal news cut, generative AI developments and new products"
5th September 2023
Learn about the vital role of nurturing the talent pipeline and succession. There's now a legal cut of our news and current awareness survey. And a real need for information managers to assert themselves to maximise the value of generative AI and mitigate the risks.
Read on the Blog