Focus on Centre of Excellence
Category
Filter the list below:
Report
Jinfo's model for an Information Centre of Excellence focuses on three separate but interrelated areas. Find out what they are and how it can help you develop your skills and expertise to deliver direct service relating to information and data. By Brandy King
Report
Your department probably has many areas of expertise that can be clustered together to form a "pillar of service" and this model explores what they are, how to define them and some worksheets to help you develop them. By Robin Neidorf
Report
Having an optimised workflow involves making more efficient use of people's time and to do this you need to identify common activities by creating a "recipe" for each of them. This model looks at how you and others can achieve this with the help of our framework which enables you to make the best...
Report
Realising your value as an information professional within your organisation is key. Jinfo's model "known fors", a visioning activity that can be used as part of the strategic planning process, can help you clarify where you have the best opportunity to provide value within the organisation....
Report
Through its research, Jinfo has consistently found that strategic planning, team optimisation, and customer communications are vitally important when it comes to evolving into Centres of Excellence, but information teams don't always exhibit these characteristics. This article looks at how to...
What's new at Jinfo?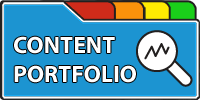 Latest in this Focus: Scorecards. Use Jinfo's step-by-step methodology to craft scorecards to strengthen negotiations, communicate with stakeholders, compare value of products and manage your portfolio more strategically.
---
What's your priority?
Use our self-assessment worksheet to determine your pathway towards more strategic portfolio management: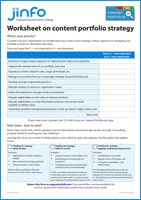 ---
A Jinfo Subscription gets you access to activity-based content to move your projects forward, plus dynamic peer group discussions on meaty topics.