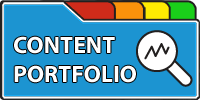 Start your transformation to become a more strategic content portfolio manager. Jinfo's Focus on Content Portfolio gives you the tools, prompts and resources you need.
Strategic content portfolio management gives you and your organisation:
Increased value and ROI for your information investments
Strengthened negotiating position with suppliers
More time for high-value expertise and less on transactional work
Improved communication with your senior stakeholders.
Let us help you design your tailored roadmap to get there.
Use our simple self-assessment worksheet to identify the gaps between your current practice for portfolio management and Jinfo's proven best-practice: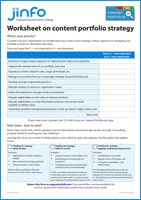 Then what?
Return the worksheet to account manager and senior analyst Rebecca Brizi at rebecca.brizi@jinfo.com for a tailored guide to which Jinfo resources best suit your needs and timeline


Investigate the activity-based content and unique peer-group Community sessions available in our Focus on Content Portfolio (all included with Content and Community)


Complete the form to discuss your needs with us.
No one understands the complexity of content licensing the way you do. Jinfo's Focus on Content Portfolio connects you with the activities, peers and projects you need to stay on the leading edge of strategic portfolio management.
Enquire now
"Without your insights, encouragement, and asking the difficult questions, we would not be where we are today. You encouraged us to be creative, stretch our expectations, and let go of 'old' thinking and doing."
Enquire
"I'm Rebecca Gebhardt Brizi, Senior analyst for Jinfo.
Contact me to review your priorities for becoming a more strategic content portfolio manager."
Rebecca Gebhardt Brizi
rebecca.brizi@jinfo.com
---
Privacy policy and terms of use
(Opens in a new window)