Newsletter No. 565
« Previous Newsletter
Next Newsletter »
---
Newsletter 565

22nd April
---

I'm excited to announce the addition of scorecards to our Focus on Content Portfolio.
Creating scorecards enables you to have:
Smoother vendor relations and negotiations
Easier product comparisons
Clearer communications with internal stakeholders.
Much-requested by Jinfo customers, our methodology gives you activity-based articles, how-to Webinars, and peer group dialogue:
Scorecards are the latest output from our extensive work with information teams on identifying their common pain points, strengths and weaknesses.
For example, we're currently working (separately) with two central banks, both of which have the same pain point in their licensing work: the increasing administrative burdens of managing their portfolios.
With our guidance and feedback, one is turning towards technology support and the other is taking a hard look at operations and workflow optimisation.
To explore the combination of process, tools, and know-how to address your team's pain points, check out our Consulting on Content Portfolio, which includes a free self-assessment worksheet.
Robin Neidorf
Director of Research and Head of Consulting
---
Make Jinfo part of your "dream team"
"The opportunity to talk with a neutral party helped reset my perspective on a challenging contract negotiation.... It helped me define my key concerns... it helped my confidence in dealing with the vendor." – resource manager for strategic insights, international accounting firm
Learn about Consulting for Content Portfolio
---
What's New at Jinfo
---
Subscription Tip: More new improvements to the Jinfo website: Sign in with LinkedIn or with a 'magic link' emailed to you, and enjoy longer sessions. Read about other improvements now.
---


"We've received quarterly briefings as a valuable added service to our Jinfo Subscription for the past two years. These briefings bring Jinfo's industry research and market findings to life, providing detail from behind the research and helping us better understand the professional information market. The briefings also afford our team the ability to ask questions and drill deeper into topics that help us understand how we can better support our customers."
Market specialist director, business information provider
More testimonials
About Jinfo
Please forward this email to colleagues and friends, and encourage them to sign up for free. Follow Jinfo on Twitter, Facebook or LinkedIn. Send your feedback, comments and suggestions using our Contact Form, and we'd love it if you could provide a Testimonial.
The Jinfo Newsletter (ISSN 1460-7239) is published by Jinfo Limited. Whilst all reasonable care has been taken to ensure the accuracy of the publication, the publishers cannot accept responsibility for any errors or omissions. Product names used in Jinfo are for identification purposes only, and may be trademarks of their respective owners. Jinfo disclaims any and all rights in those marks. All rights reserved.
Jinfo Limited is registered in England and Wales. Registered Number: 3754481. Registered Office: Lynch Farm, The Lynch, Kensworth, Beds, LU6 3QZ.
Copyright Jinfo Limited 1997-2021
---
« Previous Newsletter
Next Newsletter »
About this Newsletter
Publication Date: 22nd April 2021
Keep up-to-date with the latest from Jinfo Research by email twice-monthly.
Latest: No.566 6th May
What's new at Jinfo?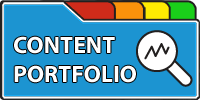 Latest in this Focus: Scorecards. Use Jinfo's step-by-step methodology to craft scorecards to strengthen negotiations, communicate with stakeholders, compare value of products and manage your portfolio more strategically.
---
What's your priority?
Use our self-assessment worksheet to determine your pathway towards more strategic portfolio management: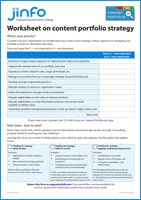 ---
A Jinfo Subscription gets you access to activity-based content to move your projects forward, plus dynamic peer group discussions on meaty topics.