Newsletter No. 569
« Previous Newsletter
Next Newsletter »
---
Newsletter 569

17th June

What's new in Centre of Excellence
Ask yourself today: "What do you want to be known for?"
The most effective information teams answer this question strategically and ambitiously, creating a strong presence of their unique expertise for their stakeholders... and for themselves.
You can now envision your Known Fors with the release of the activity-based article and recorded Webinar in Jinfo's Focus on Centre of Excellence.
If you're concerned about long-term relevance, positioning with key stakeholders and working from a strategy rather than from a task list, we encourage you to join the dozens of Jinfo clients that have adopted the Centre of Excellence approach.
It's an exciting challenge with enormous potential. Get the support of your peers who are tackling the same challenges when you join the Community session, Centre of Excellence - make progress on your evolution, with your peers (anonymised notes available for those who cannot attend live).
If you have questions about the process, resources available, and additional guidance Jinfo can provide, get in touch today.
Rebecca Brizi
Senior Analyst

What's new in Value Chain
A long-term client in the insurance industry recently completed a Consulting on Value Chain engagement focused on analysing the Value Chain for generating revenue.
They wanted to understand where their services could demonstrably help the business grow, and the wrap-up call was a good opportunity to reflect on those initial aims:
"We were looking for a transformation," one of the managers said. "We wanted to make sure we could map our activities directly to value, so that we could know that the projects we were targeting were right in our sweet spots".
Successful? Definitely:
"As a result, we are now building core services specific to the parts of the Value Chain where we have the greatest impact".
Get started exploring our methodology in our Focus on Value Chain, which enables you to:
Analyse the chain of activities that enable your organisation to achieve its goals for revenue, innovation, efficiency, risk management or other objectives
Map where and how information products and services add value to that chain
Identify what you should measure to manage, communicate and enhance the value of your expertise, products and services.
Learning the Value Chain framework challenges your brain. If you have questions or want additional guidance, contact us.
Robin Neidorf
Director of Research and Head of Consulting
Subscription Tip: We have consolidated Jinfo's research-based methods into three Focus areas – Value Chain, Content Portfolio, and Centre of Excellence. Get guidance on mapping your needs to the valuable resources you have access to by submitting a Focus enquiry – we can get you on your way when you answer a few questions on your goals.

What's new in Content Portfolio
A boutique global investment firm recently came to us with an interesting question:
"Can you help us centralise our content purchasing strategy and management?"
It's a smart question – the more strategic organisations become about their content investments, and the more they empower information professionals to be their internal experts on content, the better they can measure and improve ROI.
But... this type of shift isn't a fast or easy project. It takes:
Analysis of what the firm is trying to achieve with its investments
Buy-in from all levels of the business, starting with senior leadership, on the expertise of information professionals
Dedicated time for strategic thinking, design and planning.
In our discovery call with the project's executive sponsor, he shared why he is supporting the information team to start this process in July, to be ready to drive budget conversations in January:
"I want [the content portfolio manager] to be able to stand up in front of the leadership and say, 'This is our spending philosophy and information strategy for the coming year; this is the role information is going to play in enabling us to make money.' That's a strong position, and something I think they'll be excited to participate in."
If you want your executive sponsor to be able to make the same case on your behalf, talk with us about Consulting on Content Portfolio and contact us to start the conversation.
Stephen Phillips
Senior Analyst


"We engaged with Jinfo Consulting to conduct Value Chain analysis to understand how our customers generate revenue and where our services in the research group add the most value. After working through the analysis, it was clear where we could best help the business grow value – and demonstrate to them our value. As a result, we were able to fine-tune our strategy, services and outreach. We are now building core services specific to the parts of the Value Chain where we have the greatest impact."
Information Manager, insurance industry
More testimonials
About Jinfo
Please forward this email to colleagues and friends, and encourage them to sign up for free. Follow Jinfo on Twitter, Facebook or LinkedIn. Send your feedback, comments and suggestions using our Contact Form, and we'd love it if you could provide a Testimonial.
The Jinfo Newsletter (ISSN 1460-7239) is published by Jinfo Limited. Whilst all reasonable care has been taken to ensure the accuracy of the publication, the publishers cannot accept responsibility for any errors or omissions. Product names used in Jinfo are for identification purposes only, and may be trademarks of their respective owners. Jinfo disclaims any and all rights in those marks. All rights reserved.
Jinfo Limited is registered in England and Wales. Registered Number: 3754481. Registered Office: Lynch Farm, The Lynch, Kensworth, Beds, LU6 3QZ.
Copyright Jinfo Limited 1997-2021
---
« Previous Newsletter
Next Newsletter »
About this Newsletter
Publication Date: 17th June 2021
Keep up-to-date with the latest from Jinfo Research by email twice-monthly.
Latest: No.574 9th September
What's new at Jinfo?
Jinfo Overview - August 2021
View on YouTube
---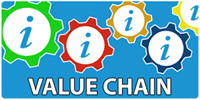 Five newly recorded webinars on how to complete the activities in our Focus on Value Chain now available.
---
Express value the way stakeholders do with Value Chain analysis
"I can now sit in a meeting with my stakeholders and articulate the role information plays in their workflows. They understand our contribution to their success." Information Senior Scientist, heavy manufacturing industry
---
With Jinfo Consulting, you get accountability, fine-tuned guidance and industry-wide perspective.