Newsletter No. 558
« Previous Newsletter
Next Newsletter »
---
Newsletter 558

7th January
---

A fresh new year is before us. What opportunities in information strategy for the coming year are you excited about? What challenges are bothering you?
Complete our two-question survey on your focus, plans and concerns for 2021.
Among the topics mentioned by respondents to date:
Linking information services to strategic functions like sales
Coping with – and leveraging – the acceleration of technology adoption
Changes in user behaviour and requirements
Motivating information team members in new directions.
Add your voice to the mix, and help Jinfo shape our research and resource development for 2021.
What's coming into Focus?
The feedback we've gotten on our Focus on Value Chain, first released in 2020, has been tremendous. Jinfo customers have used our research-based framework to:
Define the value of information in the context of what the business is trying to achieve
Create data-driven approaches to measuring, reporting and improving value
Strengthen negotiations with vendors and communication with stakeholders.
We're delighted to have helped a number of information teams make the case for adding a Consulting Pilot on Value Chain to their 2021 budgets.
Those projects are kicking off now, and we have limited capacity to add more this quarter. Complete the form if you'd like to explore this option.
We have two additional Focus projects kicking off in 2021, starting with the Focus on Content Portfolio, designed to help you manage external content as an investment portfolio rather than a collection of contracts.
Work on your own with the resources provided in your Jinfo Subscription or fast-track your progress through Jinfo Consulting.
Jinfo is your partner for practical, research-driven approaches to enhancing information strategy, value and visibility – no matter what the future brings.
Robin Neidorf
Director of Research and Head of Consulting
---
---
Subscription Tip: New improved search
You have asked for it – Jinfo now has improved search:
Predictive text * easier sorting * focused results
Try it now
---
Saves time by using our original research and practical resources
Gives you the tools to define, communicate and measure information value
Helps you reinvent your information service through insight into what the best companies do.

---
Research update - peeking around the corner to 2021 on 17th December
As we look forward to 2021, let us know what projects you're most looking forward to and what challenges lie ahead - complete our two-question survey.


Research update - what can you leverage in 2021? on 3rd December
Following a year like no other, how do you plan for 2021 in the information strategy field? Register for Jinfo's "State of the Industry" Webinar on 5th January. Plug into the insight on information strategy you need to enhance and communicate your expertise in the year ahead.

---


"Jinfo professionals are the information services experts. We find their unbiased third-party product reviews very helpful to assist us in making informed decisions!"
Research manager, manufacturing
More testimonials
About Jinfo
Please forward this email to colleagues and friends, and encourage them to sign up for free. Follow Jinfo on Twitter, Facebook or LinkedIn. Send your feedback, comments and suggestions using our Contact Form, and we'd love it if you could provide a Testimonial.
The Jinfo Newsletter (ISSN 1460-7239) is published by Jinfo Limited. Whilst all reasonable care has been taken to ensure the accuracy of the publication, the publishers cannot accept responsibility for any errors or omissions. Product names used in Jinfo are for identification purposes only, and may be trademarks of their respective owners. Jinfo disclaims any and all rights in those marks. All rights reserved.
Jinfo Limited is registered in England and Wales. Registered Number: 3754481. Registered Office: Lynch Farm, The Lynch, Kensworth, Beds, LU6 3QZ.
Copyright Jinfo Limited 1997-2021
---
« Previous Newsletter
Next Newsletter »
About this Newsletter
Publication Date: 7th January 2021
Keep up-to-date with the latest from Jinfo Research by email twice-monthly.
Latest: No.566 6th May
What's new at Jinfo?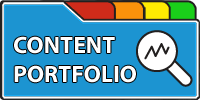 Latest in this Focus: Scorecards. Use Jinfo's step-by-step methodology to craft scorecards to strengthen negotiations, communicate with stakeholders, compare value of products and manage your portfolio more strategically.
---
What's your priority?
Use our self-assessment worksheet to determine your pathway towards more strategic portfolio management: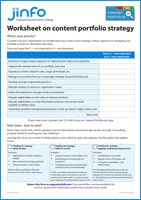 ---
A Jinfo Subscription gets you access to activity-based content to move your projects forward, plus dynamic peer group discussions on meaty topics.