Recorded webinars
Jinfo's practical and targeted webinars bring quality professional development to your desktop. Recordings are available to Jinfo clients.
Our unique expertise in distance education ensures that these sessions provide you with new tools and knowledge you can apply immediately.
---
What's new at Jinfo?
Holding vendors to account
Thursday, 15th December 2022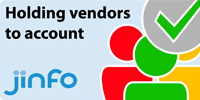 Community dates
---
[New] The Jinfo Subscription is back by popular demand!
13th October 2022
---
"Are you in a "proactive state of resilience"?"
15th November 2022
With the year end looming, our clients are closing out their 2022 deliverables and turning their attention to 2023 and the challenge of a more uncertain operating environment.
Read on the Blog