Newsletter No. 556
« Previous Newsletter
Next Newsletter »
---
Newsletter 556

3rd December
---

Jinfo's annual "State of the Industry" research gives a unique "bird's-eye view" of the information industry, which is especially valuable this year:
The "new normal" for information teams and the businesses they support
The market landscape for information products, including licensing trends
How user expectations changed over the past 12 months.
Register for our Webinar on 5th January, which will frame the questions you need to ask yourselves – and your stakeholders – to seize the current unique opportunity for positive change.
Join the Community session on 16th February and fill the gap left by the disappearance of in-person conferences, meetings and networking events to share your views and hear from your peers.
"Great, but we need something more specific"
Arrange a Jinfo Consulting Briefing to explore your own team's opportunities and challenges with a Jinfo analyst, as either a one-off to help plan for the coming year, or quarterly to keep you in the know.
So much has changed over the past 12 months, but our "State of the Industry" insights highlight the one constant, which is the value of your expertise. Let's enhance and communicate it.
Robin Neidorf
Director of Research and Head of Consulting
---
---
Subscription Tip: Curious about Community sessions but never been? Read about them on the Jinfo Blog. If you miss seeing peers at events, Community sessions can fill the gap.
---
Saves time by using our original research and practical resources
Gives you the tools to define, communicate and measure information value
Helps you reinvent your information service through insight into what the best companies do.

---
Research update - how many of these statements make you say "yes"? on 19th November
With a new year just around the corner, now is the time to prepare for a more positive and productive 2021. Find out how Jinfo can help you do this with its worksheet and tailored Consulting sessions.


2021 budgets, the future of information, and you on 11th November
Budget planning for 2021 will already be a challenging enough process without navigating the impact of the pandemic on your organisation. Jinfo Consulting enables you to meet the demands of preparing a budget by using our expertise to help you link value to your organisation's strategy. Take the opportunity to effectively align your goals and build strategic foresight for success.
---


"What a super presentation! I have shared it with my colleague and we shall discuss the topic. These are just the questions we are struggling with all the time."
Information Specialist, competitive intelligence
More testimonials
About Jinfo
Please forward this email to colleagues and friends, and encourage them to sign up for free. Follow Jinfo on Twitter, Facebook or LinkedIn. Send your feedback, comments and suggestions using our Contact Form, and we'd love it if you could provide a Testimonial.
The Jinfo Newsletter (ISSN 1460-7239) is published by Jinfo Limited. Whilst all reasonable care has been taken to ensure the accuracy of the publication, the publishers cannot accept responsibility for any errors or omissions. Product names used in Jinfo are for identification purposes only, and may be trademarks of their respective owners. Jinfo disclaims any and all rights in those marks. All rights reserved.
Jinfo Limited is registered in England and Wales. Registered Number: 3754481. Registered Office: Lynch Farm, The Lynch, Kensworth, Beds, LU6 3QZ.
Copyright Jinfo Limited 1997-2020
---
« Previous Newsletter
Next Newsletter »
About this Newsletter
Publication Date: 3rd December 2020
Keep up-to-date with the latest from Jinfo Research by email twice-monthly.
Latest: No.566 6th May
What's new at Jinfo?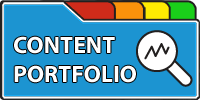 Latest in this Focus: Scorecards. Use Jinfo's step-by-step methodology to craft scorecards to strengthen negotiations, communicate with stakeholders, compare value of products and manage your portfolio more strategically.
---
What's your priority?
Use our self-assessment worksheet to determine your pathway towards more strategic portfolio management: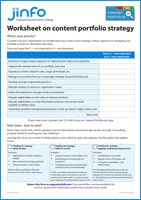 ---
A Jinfo Subscription gets you access to activity-based content to move your projects forward, plus dynamic peer group discussions on meaty topics.