Newsletter No. 440
« Previous Newsletter
Next Newsletter »
---
Jinfo Newsletter 440

11th February 2016
Jinfo is the new name for FreePint. You might have seen our announcement last week, and if you've been on the site you'll have seen the new branding.
This is simply a name change: we remain totally focused on original research to support the visibility and value of information in organisations.
We deliver through the Jinfo Subscription, covering the three topics that our research demonstrates need to work together:
Sources: What sources and products are available, and how do you get the most out of them?
Technology: What technologies and innovations enable better information delivery, management, and control?
Value: How do we better define, measure and improve the value of investments in information?
If you've been on the Newsletter list for some time but have never had a chance to explore, now is a great time to acquaint yourself with Jinfo's unique value:
Focus your attention through our Research Focus: our quarterly look at critical, strategic issues connects you with fresh research and practical outputs to make important improvements.


You need product reviews? We've got them: in-depth, methodical reviews that give you a short-cut to identifying alternatives and additions for your portfolio.


Need a quick overview of the freshest content? Our latest Subscription Update offers a summary, or visit our "What's New?" page.
But the best way to understand how we can help is to ask us how we address your particular priorities and areas of interest. Our staff can then select and make available to you "tasters" of our content.
Or, if you already have a Jinfo Subscription, we can help direct you to the most appropriate resource, make recommendations, and take your suggestions for our research and editorial planning.
Ask us today, and we can be helping tomorrow.
Robin Neidorf
Director of Research
---
We hope you've seen our announcement that "FreePint" has been renamed "Jinfo".
The old name proved a barrier to us communicating the strategic importance of "information" through our research on sources, technology and value.
This Jinfo Newsletter remains the best way for you to stay informed about our latest research and resources.
Thank you for your continued support. Read the announcement here.
---
Jinfo Research focuses on a different area of information strategy every calendar quarter.
The Topic Series Strategic Alignment of IS and IT (Jan-Mar 2016) enables content experts and technology experts to better understand, work together and achieve mutual goals around the value of information in their businesses.

Think Differently When Talking to IT Colleagues by Steve Bynghall on 29th January.
Jinfo's current Research Focus is the "Strategic Alignment of Information Services and IT". Co-producer Steve Bynghall reflects on recently-published articles and considers whether we really can build better relationships with our colleagues in the IT department.
---

The Jinfo Blog offers the latest commentary on trends, issues and opportunities in the information world, as well as examples of how organisations use Jinfo resources to raise the value of information.
Latest Jinfo Blog items:
How's Your Relationship with IT?
Participate in the Jinfo Survey, and compare your world to your peer group.
Take 10 minutes to complete our survey, and get insight on relationships with our "sister" department, IT. We ask about:
How your organisation is structured
How much knowledge you have about IT priorities and structure
Involvement of your department and IT in significant projects
Your responses are anonymous, but if you provide an email address at the end, we'll send you a copy of the report in March. Respond now »


"I found the session really interesting and definitely feel I have a clearer idea now of how we can start tackling the perennial issue of usage from different angles. I particularly like the table that filters it all down so well - this will be a good one to print out and put on my desk!"
Executive, Research Team; Global Business Advisory Firm
More testimonials
About Jinfo
Jinfo keeps information strategic to your organisation, by:
The Jinfo Newsletter and Jinfo Blog serve as your guide to the latest content and community, and highlight the value organisations get from a Jinfo Subscription.
Learn more about Jinfo, including planned coverage, frequently asked questions, and more.
Please forward this email to colleagues and friends, and encourage them to sign up for free. Follow Jinfo on Twitter, Facebook or LinkedIn. Send your feedback, comments and suggestions using our Contact Form, and we'd love it if you could provide a Testimonial.
The Jinfo Newsletter (ISSN 1460-7239) is published by Jinfo Limited. Whilst all reasonable care has been taken to ensure the accuracy of the publication, the publishers cannot accept responsibility for any errors or omissions. Product names used in Jinfo are for identification purposes only, and may be trademarks of their respective owners. Jinfo disclaims any and all rights in those marks. All rights reserved.
Jinfo Limited is registered in England and Wales. Registered Number: 3754481. Registered Office: Delaport Coach House, Lamer Lane, Wheathampstead, Herts, AL4 8RQ.
Copyright Jinfo Limited 1997-2016
---
« Previous Newsletter
Next Newsletter »
About this Newsletter
Publication Date: 11th February 2016
Keep up-to-date with the latest from Jinfo Research by email twice-monthly.
Latest: No.602 2nd March
What's new at Jinfo?
Let's talk about managing up
20th April 2023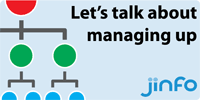 Community dates
---
[New] The Jinfo Subscription is back by popular demand!
---
"The goalposts keep moving..."
1st March 2023
Corporate belt-tightening continues and we are all being asked to do "more with less". But how practical is it to maintain service levels with diminishing resources? Before the straw breaks the proverbial camel's back, how do information leaders proactively manage stakeholders' expectations and resist the urge to "make do and mend" when budgets are tight?
Read on the Blog